Meet Our Doctors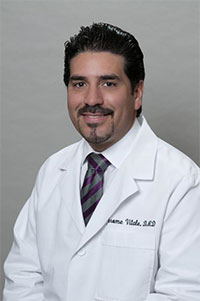 Jerome Vitale, DMD
Dr. Jerome Vitale, board certified in IV sedation, is a recognized expert in the fields of aesthetic, implant, and IV sedation dentistry. He brings decades of experience and distinguished credentials to the South Florida area. Dr. Vitale was a highly successful cosmetic and implant-focused private practitioner in New York City prior to moving to South Florida.
Born and raised in Long Island, NY, Dr. Vitale attended the University of Pennsylvania School of Dental Medicine. He also completed a residency at the Albert Einstein College of Medicine in New York.
A proponent of lifelong learning, Dr. Vitale has completed extensive post-graduate training in the fields of cosmetic, implant, and IV sedation dentistry. He has been awarded the coveted Master's level status in aesthetic dentistry by the renowned Rosenthal Institute and NYU. Dr. Vitale is one of only several general dentists in South Florida uniquely qualified to administer IV sedation and surgically place and restore dental implants.
Dr. Vitale proudly served as Executive Officer, 14th Dental Company, 4th FSSG, United States Naval Reserves, and obtained the rank of Lieutenant Commander. As a dentist in the Project Hero Program, he now provides dental care to the many wounded servicemen and women who reside in the South Florida area.
In Dr. Vitale's spare time he enjoys spending quality family time with his wife and two beautiful children.
Boulevard Center for Advanced Dentistry